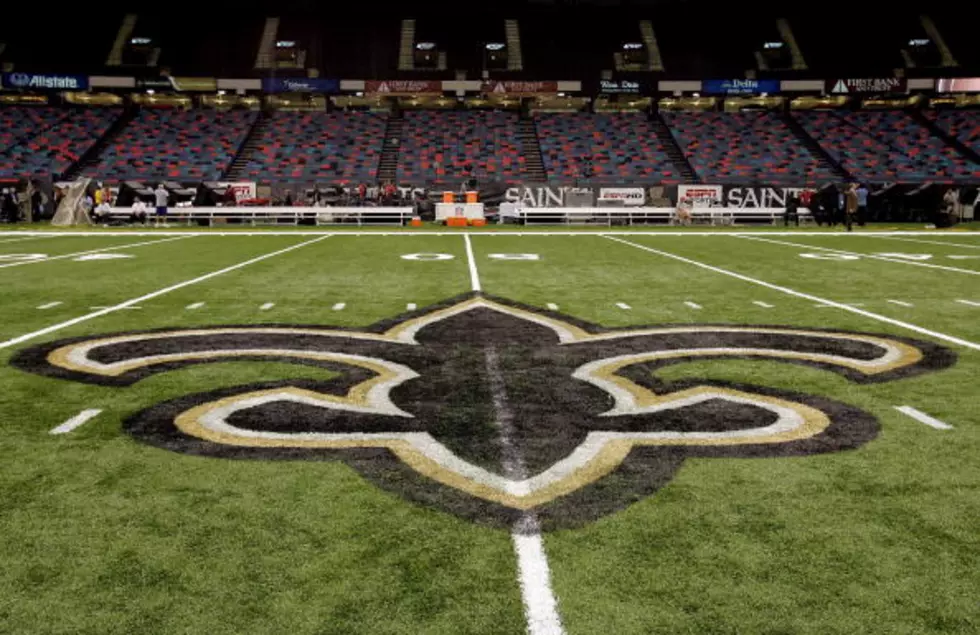 2022 New Orleans Saints Schedule Released
(Photo by Ronald Martinez/Getty Images)
The 2022 NFL Football season will be here before we know it. The NFL draft just ended where teams decided which new players they wanted to get to improve their team's chances in the upcoming year.
The NFL just released the schedules of all 32 teams in the league and that includes the New Orleans Saints. This year's team will have a whole new look, especially at the head coaching position.
The Saint's sidelines will look different this season after Sean Payton retired from football and the Saints after being the head coach of the team from 2006 to 2021. Saints fans have just become accustomed to seeing Payton on the sidelines for the past 15 seasons.
So the past two years, Saints fans have seen Drew Brees and now Sean Payton both retire. Now the head man is Dennis Allen and he will have some big shoes to fill.
Allen's test will start when the 2022 NFL regular season begins on Sunday, September 11th when they face off against the Atlanta Falcons in Atlanta.
The Saints will first start with three pre-season games. Here is the pre-season schedule.
Preseason Week 1: at Houston Texans
Preseason Week 2: at Green Bay Packers
Preseason Week 3: vs. Los Angeles Chargers
Then the regular season for the Saints will start on September 11th. The Saints will have some really interesting home games in 2022.
One that raised our eyebrows first is when the Saints will host the Bengals and Joe Burrow on October 16th in the Big Easy. It will be the first time Burrow will return to Louisiana to play football as a professional.
They will also host the Superbowl Champs from last season, the La Rams on November 20th.
Here is the New Orleans Saints 2022 regular-season schedule.
Week 1: at Atlanta Falcons — Sunday, Sept. 11 at noon on Fox
Week 2: vs. Tampa Bay Buccaneers — Sunday, Sept. 18 at noon on Fox
Week 3: at Carolina Panthers — Sunday, Sept. 25 at noon
Week 4: vs. Minnesota Vikings — Sunday, Oct. 2 in London at Tottenham Hotspur at 8:30 a.m. on NFL Network
Week 5: vs. Seattle Seahawks  — Sunday, Oct. 9 at noon
Week 6: vs. Cincinnati Bengals — Sunday, Oct. 16 at noon
Week 7: at Arizona Cardinals — Thursday, Oct. 20 at 7:15 p.m.
Week 8: vs. Las Vegas Raiders — Sunday, Oct. 30 at noon
Week 9: vs. Baltimore Ravens — Monday, Nov. 7 at 7:15 p.m.
Week 10: at Pittsburgh Steelers — Sunday, Nov. 13 at noon
Week 11: vs. Los Angeles Rams — Sunday, Nov. 20 at noon
Week 12: at San Francisco 49ers — Sunday, Nov. 27 at 3:25 p.m.
Week 13: at Tampa Bay Buccaneers — Monday, Dec. 5 at 7:15 p.m.
Week 14: Off week
Week 15: vs. Atlanta Falcons — Saturday, Dec. 17 or Sunday, Dec. 18
Week 16: at Cleveland Browns — Saturday, Dec. 24 at noon
Week 17: at Philadelphia Eagles — Sunday, Jan. 1 at noon
Week 18: vs. Carolina Panthers — Saturday, Jan. 7 or Sunday, Jan. 8
Louisiana Foods For Game Day
More From Talk Radio 1470