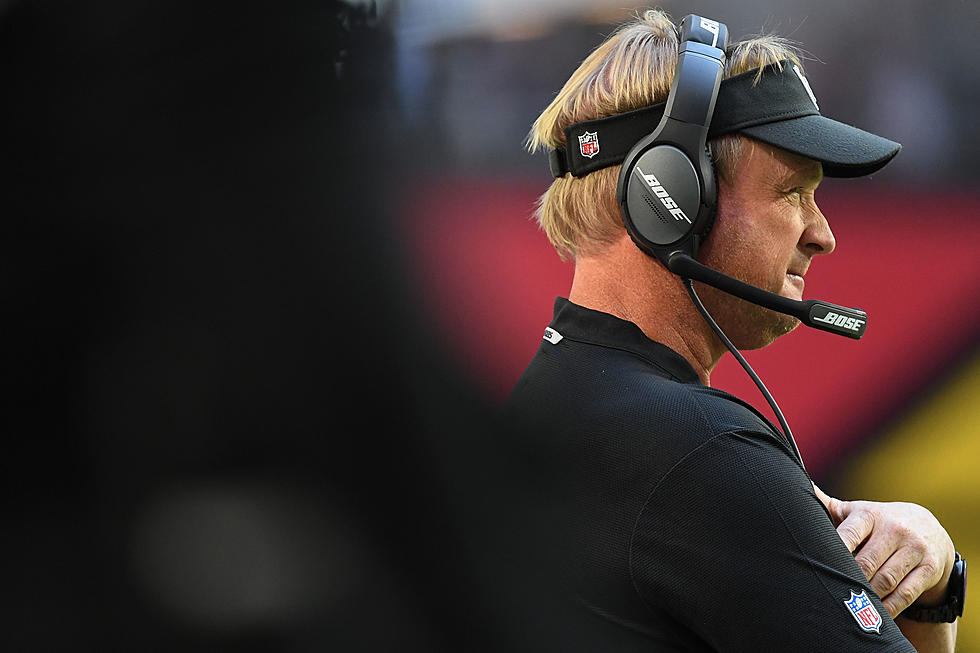 Did The New Orleans Saints Just Hire Jon Gruden
Photo by Jennifer Stewart/Getty Images
Well, Jon Gruden is back in an NFL building.
Nola.com reported that Gruden has been with the New Orleans Saints as they transition new quarterback Derek Carr into their offensive system.
Grunden was brought in for a few reasons. With Carr now in New Orleans, he needs to figure out how the Saints do things on offense. Carr's best years with his former franchise, the Oakland/Vegas Raiders, came when Gruden was his Head Coach. So Gruden knows how to communicate with Carr. Not to mention the system the Saints are running is a carryover from the offense former Head Coach Sean Payton had been running for years. Payton and Gruden coached together in the late 90s with the Philadelphia Eagles, so they have some similar tendencies and lingo in their offensive schemes.
Basically, Gruden will be navigating how to mesh what he taught Carr with what the Saints need him to do, and he's uniquely qualified to do that. However its unclear if this is a part time job, full time job, or if Gruden is doing it as a volunteer.
Gruden is a Super Bowl winning Head Coach who has proven over and over that he's one of the best offensive minds in football. So why doesn't he have a job? Well, in 2021 it was revealed through an investigation into the Washington NFL franchise that Gruden had regularly sent racist, homophobic, and misogynistic emails to NFL personnel. The content of those emails were published in the New York Times, and circulated through numerous media platforms.
At that point, Gruden resigned his position with the Raiders organization. He was then removed from the Tampa Bay Buccaneers Ring of Honor, where he had been inducted in 2017.
Since, Gruden has announced that he would be suing the NFL and Commissioner Roger Goodell.
So with all of that baggage, its a little shocking to not only see the Saints organization interested in bringing Gruden in, but that the NFL would allow it.
Legendary Mike Leach Quotes
College football coaching legend Mike Leach tragically died at the age of 61. His quotes will live on forever.
75 Of The Most Famous People From Louisiana
More From Talk Radio 1470